Rain Catchment in the Rainy Season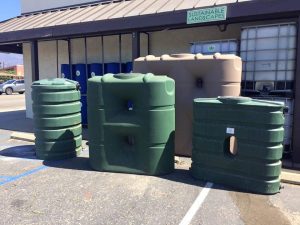 The ECO Store has all you need to start collecting and storing rainwater on your property.
Rain barrels and tanks
We have a wide range of rain barrels and tanks to help maximize your storage capacity.  We have 55 gallon food-grade barrels, 5050 gallon rain tanks and many sizes in between.  All the rain barrels are made with either food-grade HDPE-2 plastic, or other high-grade plastic designed for storing water.  We also offer two options for potable water: 3100 gallon and 4995 gallon tanks.
Fittings, Fixtures and Pipes
The ECO Store also has supplies to help you hook up your tank.  We carry brass spigots and ball valves, as well as PVC connectors and adapters.  We also have custom-made barrel-to-barrel connections to help you increase your storage capacity for smaller-scale systems.
Installation and Custom Solutions
Besides selling the products, The ECO Store also provides services to help create a custom solution for rain catchment.  We have free curb-side delivery for any of our products to the Oak View/Ojai area.  We also install gutters, tanks and irrigation systems.